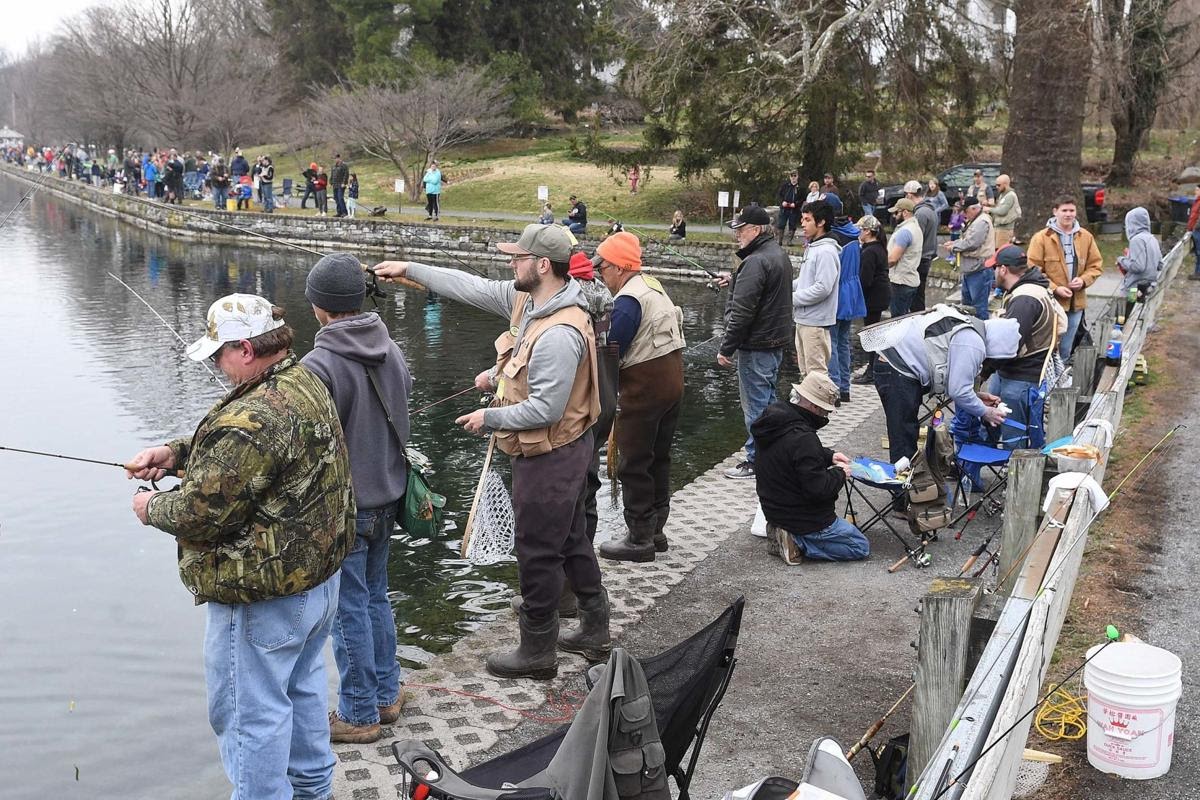 For many anglers, the end of winter is officially marked by the beginning of trout season. This momentous event is marked by common rituals: stocking up on salmon eggs in your favorite colors, loading up your gear for the opening-week competition when dudes in waders line your local streams, and meeting up for breakfast at the local diner to size up the (friendly) competition.
In case you're unsure whether you should be joining the throngs of professional and amateur anglers during opening weekend or on the second and third weekend of trout season. We've taken it upon ourselves to break it down for you.
Opening Weekend
Fresh stockers, EVERYWHERE! The crowd is more accurately described as a human wall circling the hole by the bridge, which will come crashing down on the water when the starting bell rings.
The place where you should be is at the bottom of the hole.
Yes, the top and middle of the run probably has more fish at the beginning, but the trout in those spots will inevitably be spooked by the army of spinners and anglers splashing around like a bunch of amateurs.
When the trouts scatter (and they certainly will), they're going to slide downstream. What they are not going to do, is push upstream, against the current, to where the crowd and alarming noises are.
So downstream is where you'll be, waiting patiently, for that eager breeding trout that hasn't had breakfast yet, with you favorite bait at the ready.
Second Weekend
Passion never lasts - this rule certainly holds true for trout fishing. The crowds from the opening weekend will definitely be much thinner after opening day.
But this isn't necessarily a good thing for you. Because any trout that survived the massacre of the first few days will definitely be way more cautious, especially if they've been lucky (or unlucky) enough to be caught and released a few times.
What you need to do at this point is to give them a real meal, not the same in-lines and low-quality dough baits that these trouts have seen all week. If you want to land trout in the second weekend, you need a stickbait that's at least over 60inches and work the hole from top to bottom meticulously. No large steps, slowly and steadily drag your bait with varying jerk speeds and pauses.
With any lunch, the monster trout that's evaded capture all week will bite your bait and, if it's big enough, it won't be able to shake itself free of the lure that easily.
Third Weekend
Stay away from the community holes.
We repeat: STAY AWAY FROM THE COMMUNITY HOLES.
At this point in the game, the remaining trouts have had more than enough time to move around. All it takes is for a slight cavity, a tiny depression behind a large boulder or somewhere along the far bank is where you'll find the last of the trouts.
And the best part is that many, if not all, of the anglers will choose to skip these spots on their way to the big, community holes that we are warning you to stay away from.
Fishing is not a team sport!
The trout that will be holding in these prime spots are now feeding like wild fish, so make sure to move your baits - don't just dangle them! Get them excited with a spinner or a small jerkbait before you start drifting eggs and dough!
Trouts can be a stubborn bunch. In the early season, when they are moving through their spawning stage, they take their stubbornness to frustrating heights. Also note that trouts may not feed heavily while they're spawning.
What could really come in handy at this point is a rattlebait that makes its way through the waters chattering away, announcing its presence to the spawning trouts.
But be sure to check the local regulations first, because some states have spring closures when trout naturally reproduce.
Conclusion
As spring finally comes around, it can be tempting to retreat to the gradual warmth of a local beach and kickback, especially after a winter spent in quarantine.
But it's the mark of a real angler to give up this alluring prospect for the even more exciting feeling of sinking your hook into a fat trout.
With that in mind, what are you doing for your spring break?